COMPANY PROFILE
MFS, the "One-Stop-Shop"
MFS is a company specialized in gas turbine maintenance, services, parts and site management.
Mechanical Field Support B.V. (MFS) was set up by highly skilled and qualified gas turbine supervisors with over 100 years combined experience within gas turbine maintenance, service, site management and site relocations. Since the setup in 2001 MFS has expended to all regions of the world with a large team of experts.
MFS B.V. is known as a reliable supplier for gas turbine supervisors. We offer our customers Long Term Service Agreements providing you the opportunity for regular inspections, maintenance and repairs on gas turbines.

Our business philosophy is based on close cooperation with customers and partners, finding solutions for cost effective and reliable operation of your equipment. Our flat, independent and international organization structure enables us to respond swiftly and flexible. We serve the worldwide gas turbine market, including oil & gas installations, power generation plants and commercial marine propulsion.
With our competitive labor rates, quality, efficient working methods and parts sourcing ability, MFS offers you a significant reduction in costs in comparison to OEM rates.
Do you want us to take care of your power? Contact us immediately!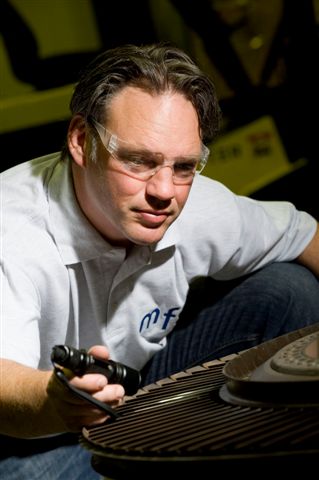 Mechanical Field Support bv was set up by qualified engineers with over 100 years combined experience within gas turbine maintenance, service, site management and site relocations.
Our engineers master all levels of maintenance on the GE LM series: LM1600, LM2500, LM2500+, LM5000 and LM6000. We are also able to maintain Pratt & Whitney gas turbines and GE 1, 3, 5, 6, 7 and 9 frame engines.
Service performed by our engineers include inspection, trouble shooting, repair, servicing, laser alignment, preventive maintenance and overhauls on engines as well as package installations.
Engineers at MFS bv have developed their skills by extensive training and experience over the years. New employees receive training at our own facility before sent out in the field, additional training will be given in order to develop their skills and encourage their interest. Senior engineers are always available to support engineers at sites.
Our Mission
Our mission is to improve profitability, reduce downtime and decrease total cost of ownership for our customers by supplying: genuine spare parts, field service, shop maintenance, consulting and training!
MFS bv is ISO 9001 certified and VCA** / SCC** certified and dedicates to provide a safe workplace and environment for our employees and consequentially for our customers.